Learn how to make delicious Arroz con Gandules!
Starting in 1900, immigrants from Puerto Rico were recruited to work on Hawaii's sugar plantations. One of the plants they brought over to Hawaii was the large shrub called Gandule, which bore a bean used in many Puerto Rican dishes. Arroz con Gandule is a celebratory dish usually reserved for holidays. And like many cultural dishes that made their way to Hawaii, recipes were altered because traditional ingredients were not available in Hawaii at the time. Source: The Original Hawaii's Plantation Village Cookbook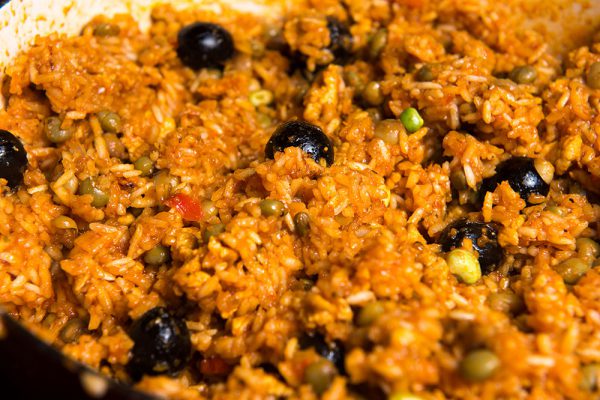 | | |
| --- | --- |
| | |
Bring gandule to first boil; drain in colander and set aside.

Slice pork into thin, short, narrow strips. Chop onions. Fry pork with onions, pepper and garlic. When almost done, add pimiento trip (optional). Add can of tomato sauce and allow to simmer uncovered for a few minutes. Add chopped green onion, cilantro, gandule, broth and uncooked rice and add salt to taste.

In a separate pot melt 1 Tbsp. achiote seeds in 1 Tbsp. Crisco. Strain seeds; add colored Crisco to other ingredients.

Bring mixture to a boil then lower heat and place foil on top, folding in the edges. Place pot lid on foil. Simmer until rice is dry.